Special Screening of Aram, Aram (2015)
On October 16 at 8:00 p.m. Arpa Foundation for Film Music and Art (AFFMA) is presenting the opening night for the Los Angeles theatrical release of Aram, Aram at the Americana, in Glendale. This Los Angeles-themed movie, set in the Armenian community of Hollywood, is the first American independent drama to take viewers inside the Armenian community of Los Angeles.
Aram (John Roohinian), a 12 year-old Armenian boy, is suddenly uprooted from his home and sent to live with his grandfather (Levon Sharafyan) in America. Aram soon falls in with the wrong crowd and struggles to navigate the clash between old-world values and new- school Armenian identity in Little Armenia, Los Angeles.


Christopher Chambers, first-time writer-director and native Los Angeleno, considers it "an honor to present our Opening Night at the world-class theaters at the Americana, and with the world-renowned AFFMA, whose Arpa Film Festival is defining the landscape for international cinema in Los Angeles."
Both AFFMA and its signature event, the Arpa International Film Festival, are the only Armenian film-related organizations that bridge the gap between the Los Angeles Armenian community and the entertainment industry at large. These organizations have grown to amass a powerful network of filmmakers and independent industry professionals. AFFMA, a non-profit organization, founded in 1995 was formed for the purpose of promoting the arts by creating a dynamic forum for international cinema. Its mission is to support filmmakers from around the globe to unify audiences with their visionary work. Michael Ashjian, AFFMA's director of Arpa International Film Festival expressed, "Supporting Christopher for his theatrical release is important to us. And presenting the opening of Aram, Aram at the Americana is what we strive to do."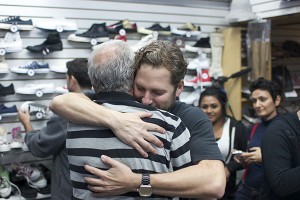 Aram, Aram stars famous Armenian actors Levon Sharafyan and Alla Tumanian and introduces newcomers John Roohinian and Sevak Hakoyan. Chambers, a second generation American with Irish and Swiss roots, wrote and directed this Armenian story with an entirely Armenian lead cast. Chambers, who has no Armenian roots, chuckled warmly about his close relationship with his cast, "The joke among my actors is that I am now Christopher Chambassian."
Chambers remains grateful for the success his film has experienced, and is thrilled about the theatrical openings in Glendale and Encino. " 'Aram, Aram' could not have been made without the support of members of the Armenian Communities in the valley and in Glendale. We are proud to bring our film to our fans in the Glendale community with the amazing team at AFFMA."
After directing over 5,000 broadcast television promos and media spots, Chambers put the brakes on his career and decided to dedicate himself fully to Aram, Aram, which he passionately refers to as his "labor of love."
The tremendous success Aram, Aram has received is a clear indication to Chambers how audiences crave authentic stories from underrepresented communities. With that realization, Chambers recommends that future filmmakers and young storytellers "Stop trying to imitate Hollywood films. Go out there and tell a story from your community. Show the world something unique from the world around you and tell your story."
Doors Open at 7:45pm, Screening Begins at 8:00pm
Director/Writer: Christopher Chambers
Cast: John Roohinian, Levon Sharafyan, Sevak Hakoyan, Alla Tumanian, Inga Stamboltyan, Mike Ghader, David Villada, Tina D'Marco, Naria Alyssa
Producers: Christopher Chambers, Jared Parsons, Ian Coyne, Nick Cimiluca
Executive Producers: Matt Ratner and Rick Rosenthal
Runtime: 85 minutes
Website: www.AramAramFilm.com
Q/A session after the screening with the Writer-Director, Christopher Chambers, and all the incredible actors in the film including Levon Sharafyan, Alla Tumanian, John Roohinian and Sevak Hakoyan.

Written by Sharon Swainson
Communications & Content Development
Arpa Foundation for Film, Music & Art